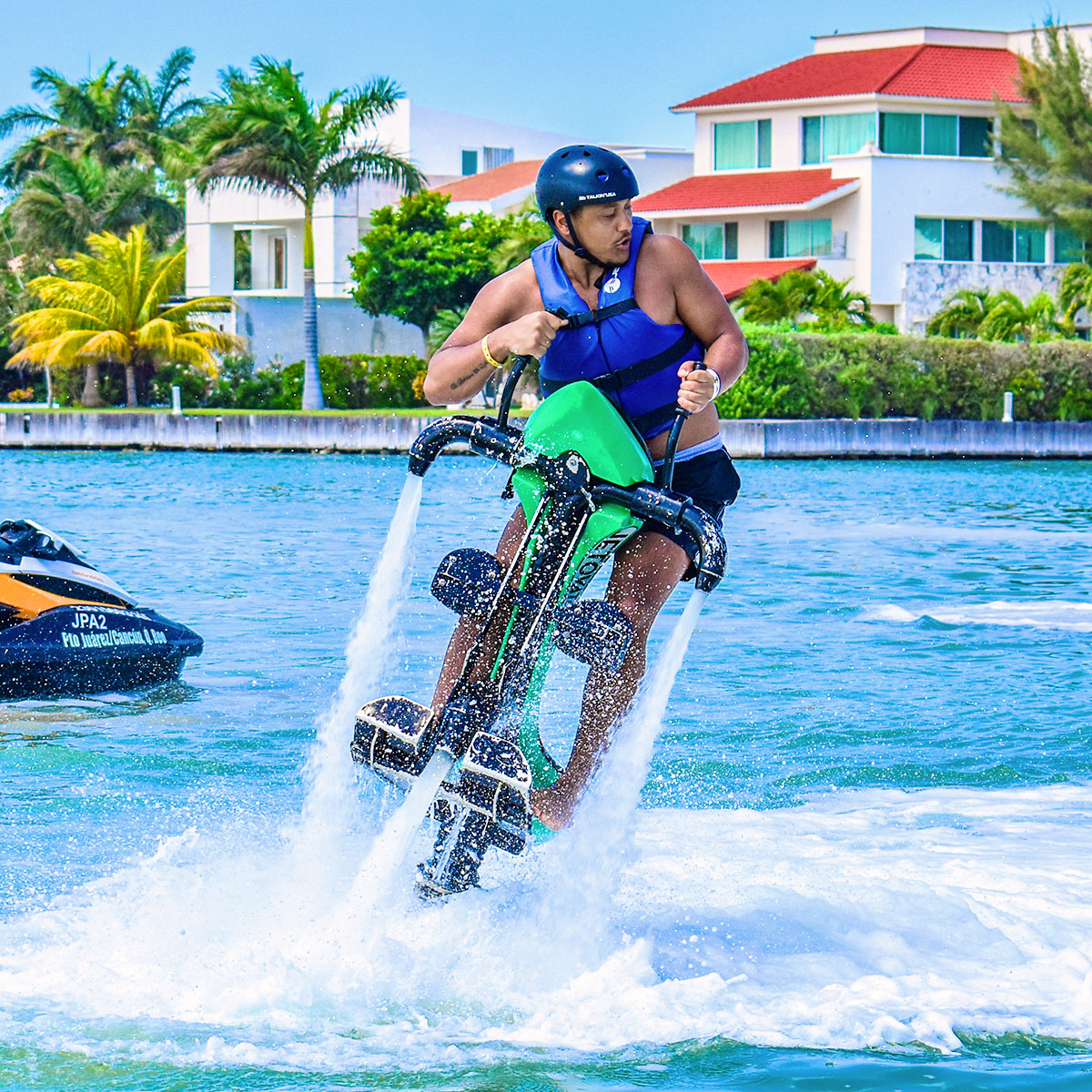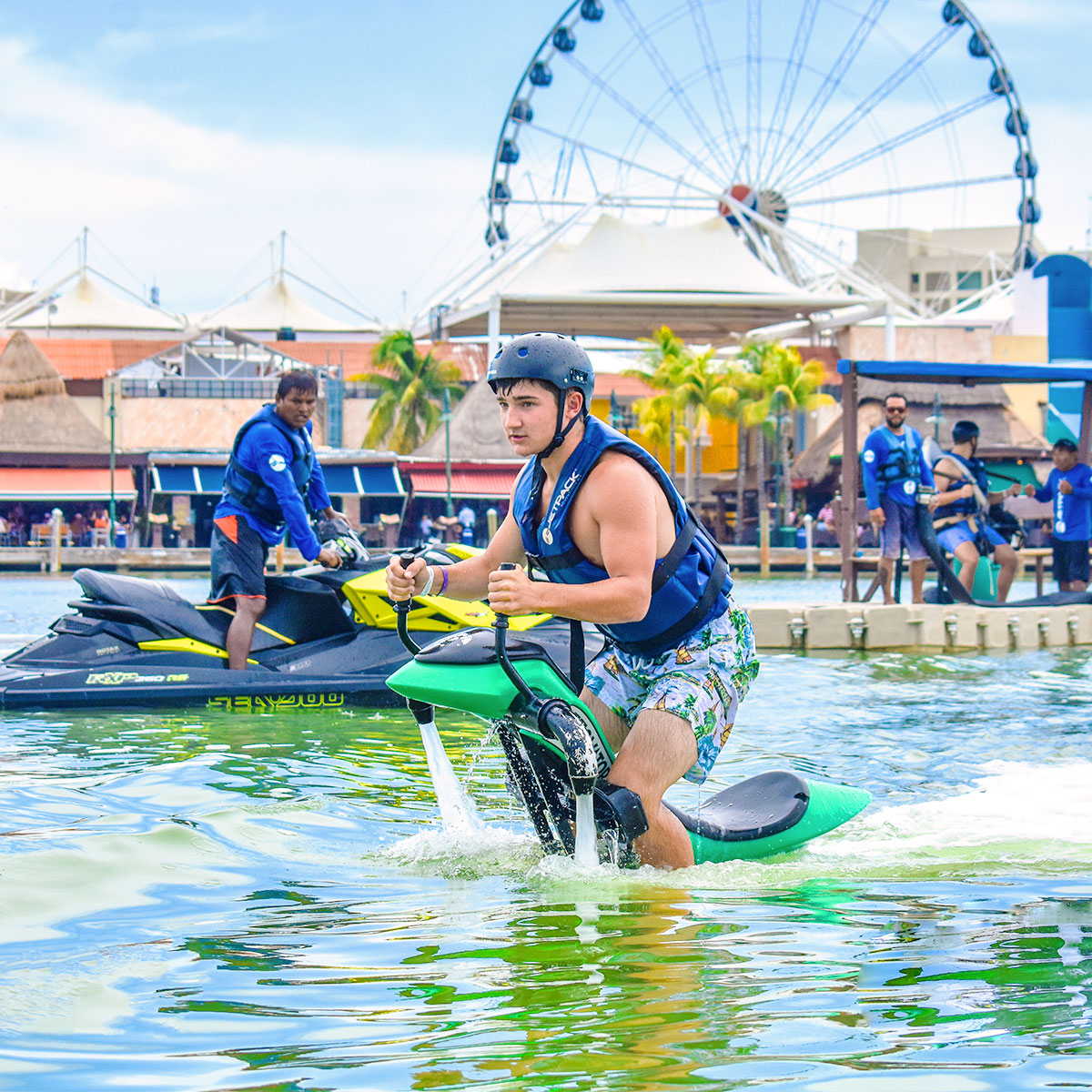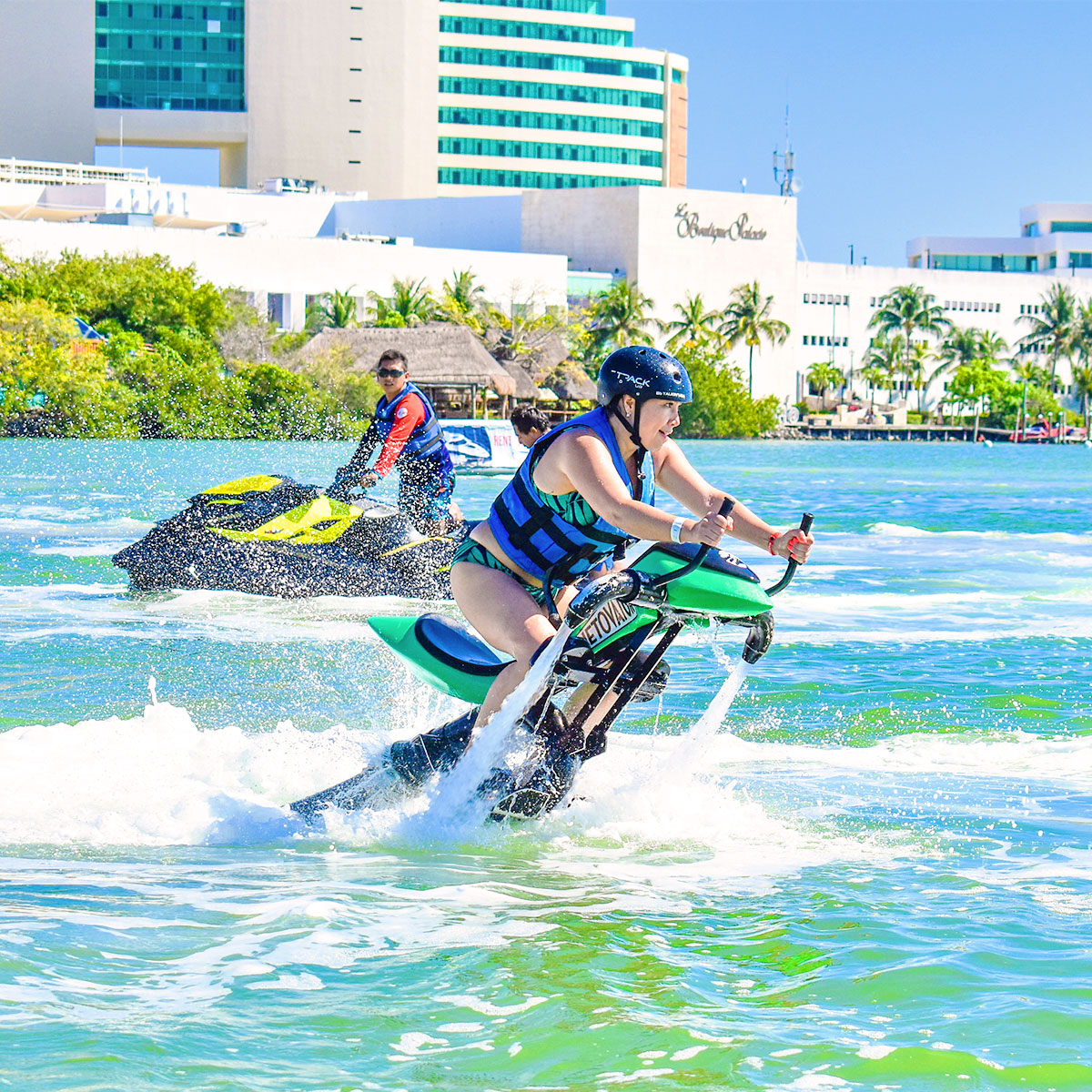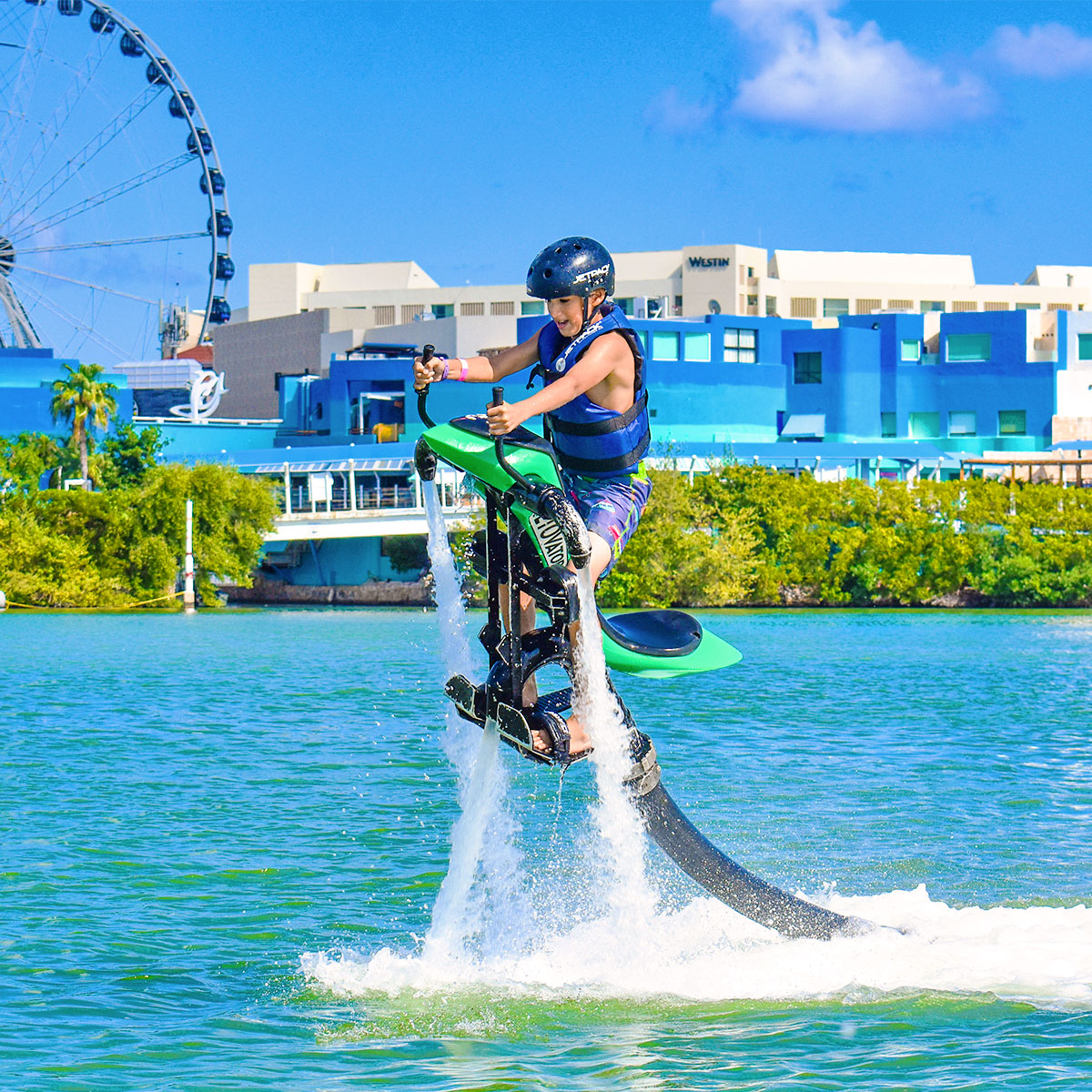 Jetovator Adventure
from US $79.00
Soar to great heights and zip across the water's surface. Experience a new kind of aquatic adventure on the one-of-a-kind Jetovator as you effortlessly fly zoom across the water on a flying aquatic bike.
Description
Hop onto this fascinating and exhilarating water-jet-powered scooter for a thrilling experience you won't forget. The Jetovator is a hybrid watercraft that blends the powerful performance of a modern jet ski with a unique riding style similar to a motorcycle or moped.
Your aquatic excursion begins on a dock, outfitted with all the necessary safety equipment, overlooking the spectacular waters of the Nichupte Lagoon, where you join your instructor for a quick lesson outlining the Jetovator's simple controls.
Let your instructor take care of the throttle while you give the thumbs up that you're ready to go. As the engine revs, soar into the air and begin flying, powered only by the massive streams of water that are shooting out from the bottom of your futuristic contraption. There's truly no vehicle like the Jetovator. As you get to know the machine's controls, move in 3 dimensions as you feel the adrenaline rush of a wholly new experience. A professional photographer is waiting on the dock to snap an action shot of your high-flying antics.
Experience
Highlights
Fly above the lagoon's surface on a cutting-edge personal watercraft.
Experience a new kind of water sport.
Receive personal guidance from a Jetovator expert.
Includes
Private service.
Specialized bilingual pilot.
Guided Jetpack session.
Safety equipment (lifejacket & helmet).
Bathrooms and shower area.
Exclusions
Transportation
Dock fee
Photos & videos
Gratuities (optional)
Prepare for the activity
Tour locations
We are located inside the village mall "La Isla" at the hotel zone, km 12.5. Our office is Inside the mall next to the "Lighthouse Restaurant." Please arrive 30 minutes prior to your reservation.
Important information
What to bring
Passport or ID card
Comfortable clothes & shoes
Swimwear
Towel
Biodegradable sunscreen
Money for souvenirs or photos
Not allowed
Cameras (GoPro)
Drones
Smartphones
Valuable things
Know before you book
You must be 12 years old to realise this activity
Minimum weight to use the Jetpack is 100 lbs & maximum 285 lbs.
If you have back, neck, joint, muscular problems or if you are pregnant, you should carefully consider whether to
Participate.
If you are 17 or younger, you must have your parent or guardian's permission.
An additional surcharge of 13 USD for the Dock Fee will be collected upon arrival.
While participating in the activity, you cannot bring cameras of any kind, drones, or valuables things.
It´s important arrive 30 minutes prior to your reservation.
Please bring your booking reservation and your ID.
---
JETOVATOR 15 MIN
Location: Cancún
JETOVATOR 30 MIN
Location: Cancún